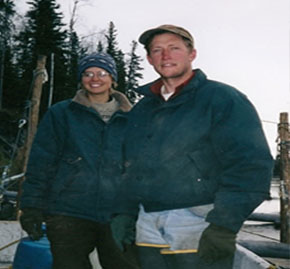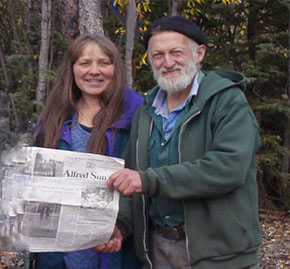 Who we are
My family and I live a subsistence lifestyle in the remote regions of Interior Alaska. We use Dog teams, Guide Big Game Hunters, Run Fish-wheels, Build Log Homes, Pilot our own aircraft, and grow or harvest most of our needs from the wilderness around us. Turner's Alaskan Adventures is a small, family owned business, with a focus on sharing Alaska's natural wonders with visitors from around the world.
What we do
Depending on the season, we are always doing something different.  In winter, we operate remote traplines to catch fur-bearing animals for sale, including wolf, beaver, lynx, marten, fox, wolverine, and otter. This is the main focus of our lives in Alaska. In summer, we operate handmade fish wheels to collect salmon to feed our sled dogs, build cabins, and grow vegetables for eating year-round. We sometimes work seasonal jobs in other parts of the State. We offer most big game hunting opportunities during the spring and fall months and trapline adventures during the winter months.
What we believe
We feel a close connection to the land. We live directly from what the land provides and feel a strong sense of responsibility to manage these resources wisely.We have learned that if you respect the land and its resources, the land will provide for your needs, as well as needs of the the generations who will follow. We are a Christian family and live by these principles. The clients that come with us often return multiple times. The hunts and adventures you will experience with us has as much to do with learning of and experiencing the land as anything else. The mission, of course, is to find your trophy, but you will find in the end that you have had a truly unique and rewarding wilderness adventure. We operate our hunts and trapline activities with a strong fair-chase and conservation ethic.
We view our guiding as a part of our subsistence lifestyle. All meat that remains after the guiding season is used both by our family, fellow guides, and other bush residents for their winter's supply of meat. As a result, these trophy animals fulfill a hunting dream, provide income for remote Alaskans as well as our supply of meat for the winter months. We believe that the animals that are harvested in our activities could not be more fully utilised and appreciated in any other manner.
You are invited to join the Turner Family and a few of Alaska's finest outfitters on true wilderness hunting adventures. Whether patiently stalking the trophy animals you dream of or checking traps along the winter trail…it's all possible. We specialize in truly remote areas that are completely uninhabited by man.
Location
PO. Box 646 Nenana, Alaska 99760 U.S.A.
Contact Us
Telephone/Fax (907) 479-7535      E-mail: Alaskanate@gmail.com