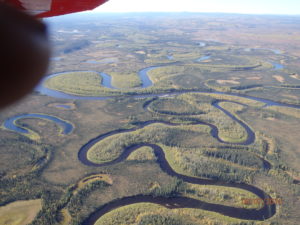 Hunt Dates: September 1-25
Moose and Grizzly hunting is in September. You will have an 8-10 day hunt, but must plan to have some travel time at the beginning and end of the hunt. There are two parts to the moose season. The first hunt is between the 5th and the 14th of September; the second hunt is between the 15th and the 25th.
 We also offer a 14 day moose/grizzly combination hunt which is from September 1st to the 14th. 
It is important to schedule the travel time into these hunts. You should plan to arrive at least one day before your scheduled bush flight to camp and depart the day following your return from the Bush. These bush flights are often delayed because of weather
Hunt Location: Nowitna National Wildlife Refuge

 
Our primary hunting area for Moose and Interior Grizzly is on the Southern half of the Nowitna National Wildlife Refuge, an exclusive guiding area in the central Yukon River basin. This hunting area amounts to approximately 1 million acres (400,000 hectares) of land and contains over 200 miles of river to hunt along. Our family has lived and worked in this area for more than 30 years now and Nate has been guiding moose and grizzly hunters in this area for 25 years.
This hunting area is a truly remote wilderness area; it requires a two-hour flight in a Cessna 206 , 185, or Beaver to reach the hunting camps from Fairbanks. It is an exceptionally scenic area, especially during the hunting seasons. Beyond the occasional trapper's cabin, the region is entirely uninhabited and undeveloped. The fishing is great, especially for northern pike, sheefish,  and arctic grayling.   
The hunting is from canoes along the river itself or from large lakes. The canoes are motorized, and your camp is portable – meaning you will be able to move about as necessary to focus on the better hunting locations. You can expect to find a good number of bulls (typically average 1 or 2 per day) and a number  of cows with calves during your hunt. We are primarily looking for 60″ or better bulls, and the majority of our hunters take bulls in the high 50's to mid 60's each season, with several bulls taken in the high 60's each year.  
 By calling while you're floating,  you can often bring the bull right out to the rivers edge. Other animals available on a trophy fee basis in this area include grizzly, black bear, and wolf. We charge a trophy fee if you choose to shoot a grizzly or black bear, and wolves are free. You must purchase a tag from the State of Alaska for each animal before you are allowed to shoot one. We have the ability to sell these tags while in the field should you decide to hunt for a bear or wolf.  
Costs: Please see the price list for hunt related expenses
 The prices listed cover travel to and from the hunting area from Fairbanks, the costs of your guide, all your camping and trophy preparation needs while you are in the field, and transportation of your trophy back to Fairbanks. The only other additional expenses you can expect to pay are:  
Your hotel and traveling expenses within Alaska
The cost of your hunting license and tag fees
It is normal to provide a tip for your guide at the end of the hunt. This is typically between of 5% and 10% of the hunt cost
The cost of professional preparation of your trophy for customs and transporting your trophy home.
Location
PO. Box 646 Nenana, Alaska 99760 U.S.A.
Contact Us
Telephone/Fax (907) 479-7535 E-mail: Alaskanate@gmail.com